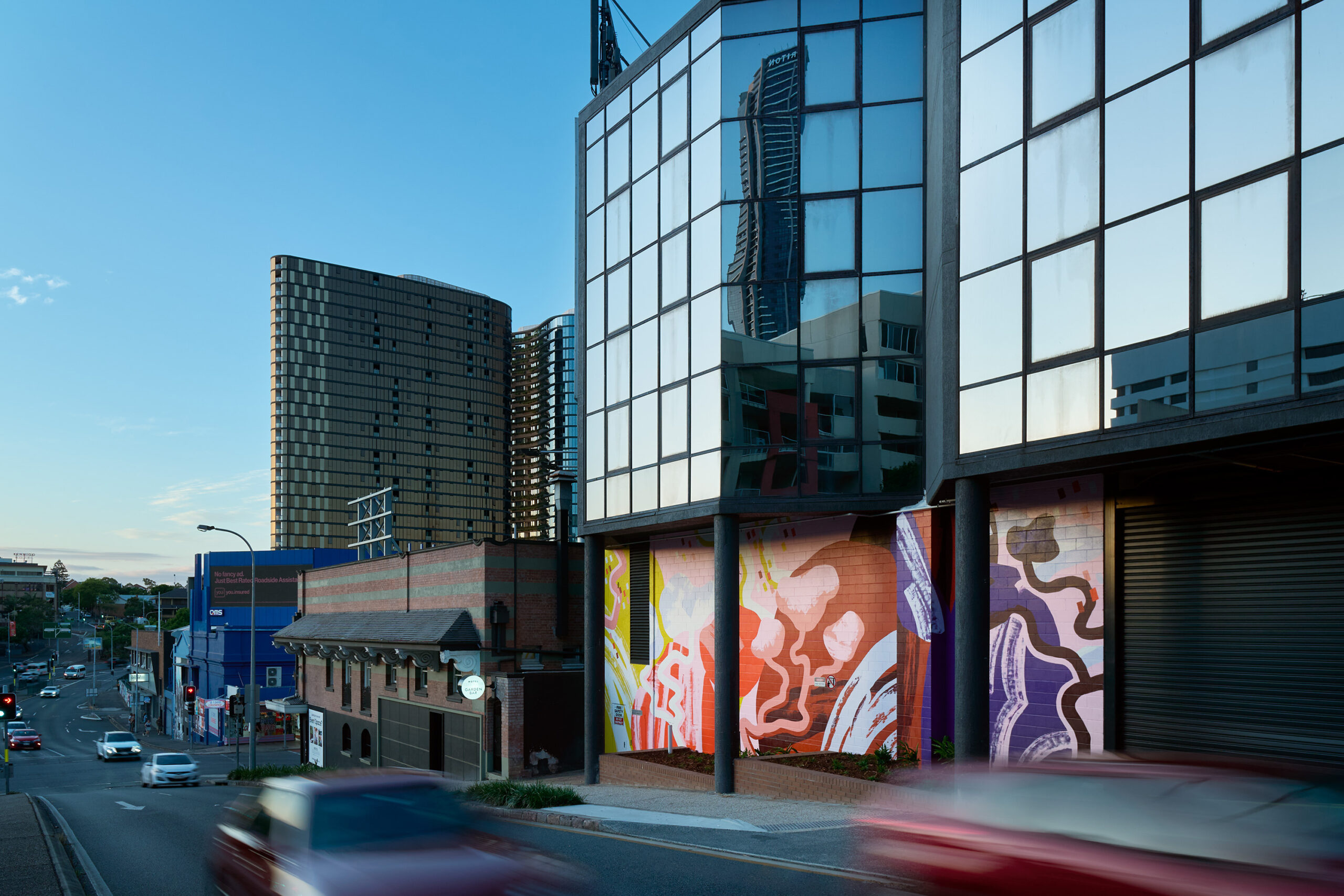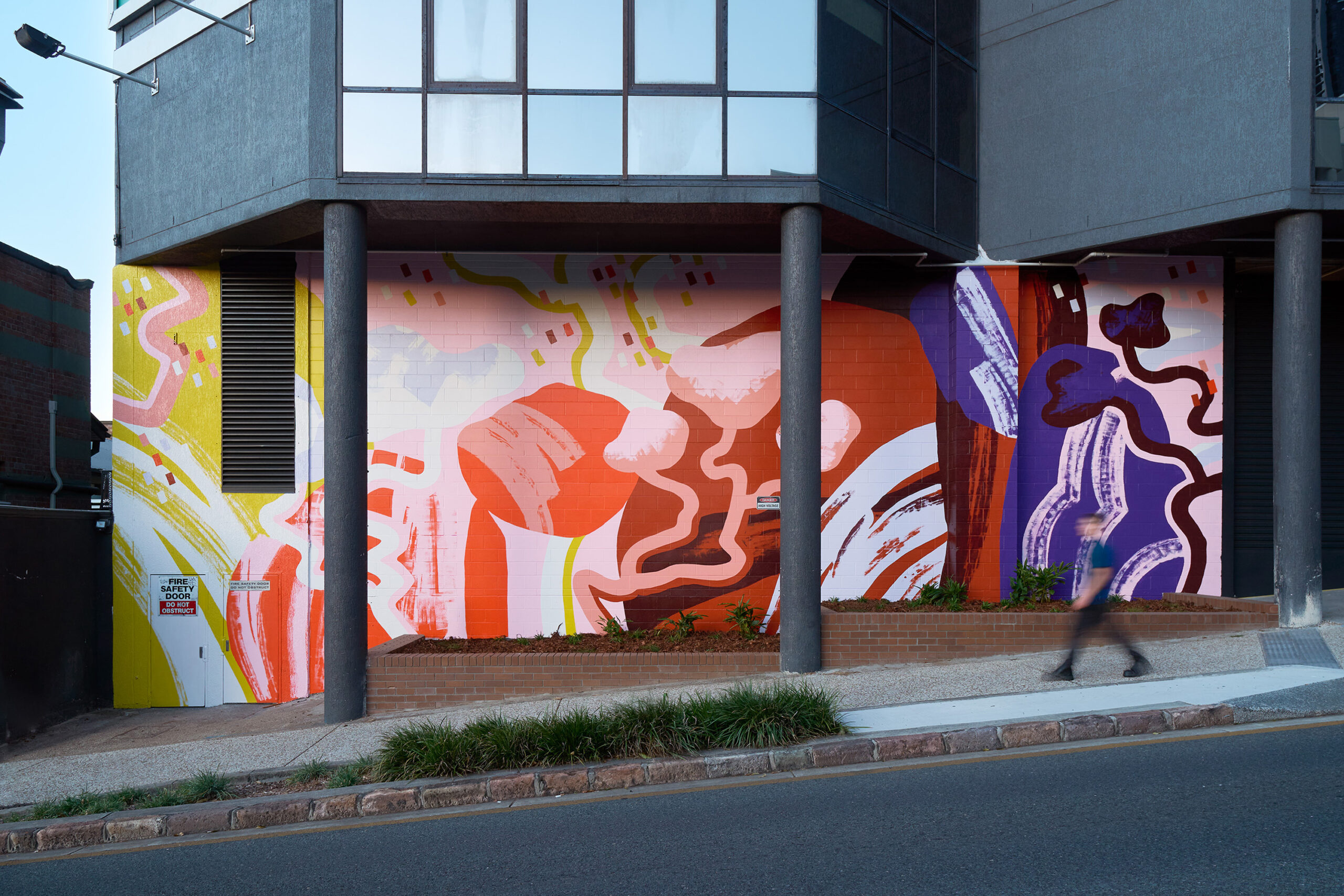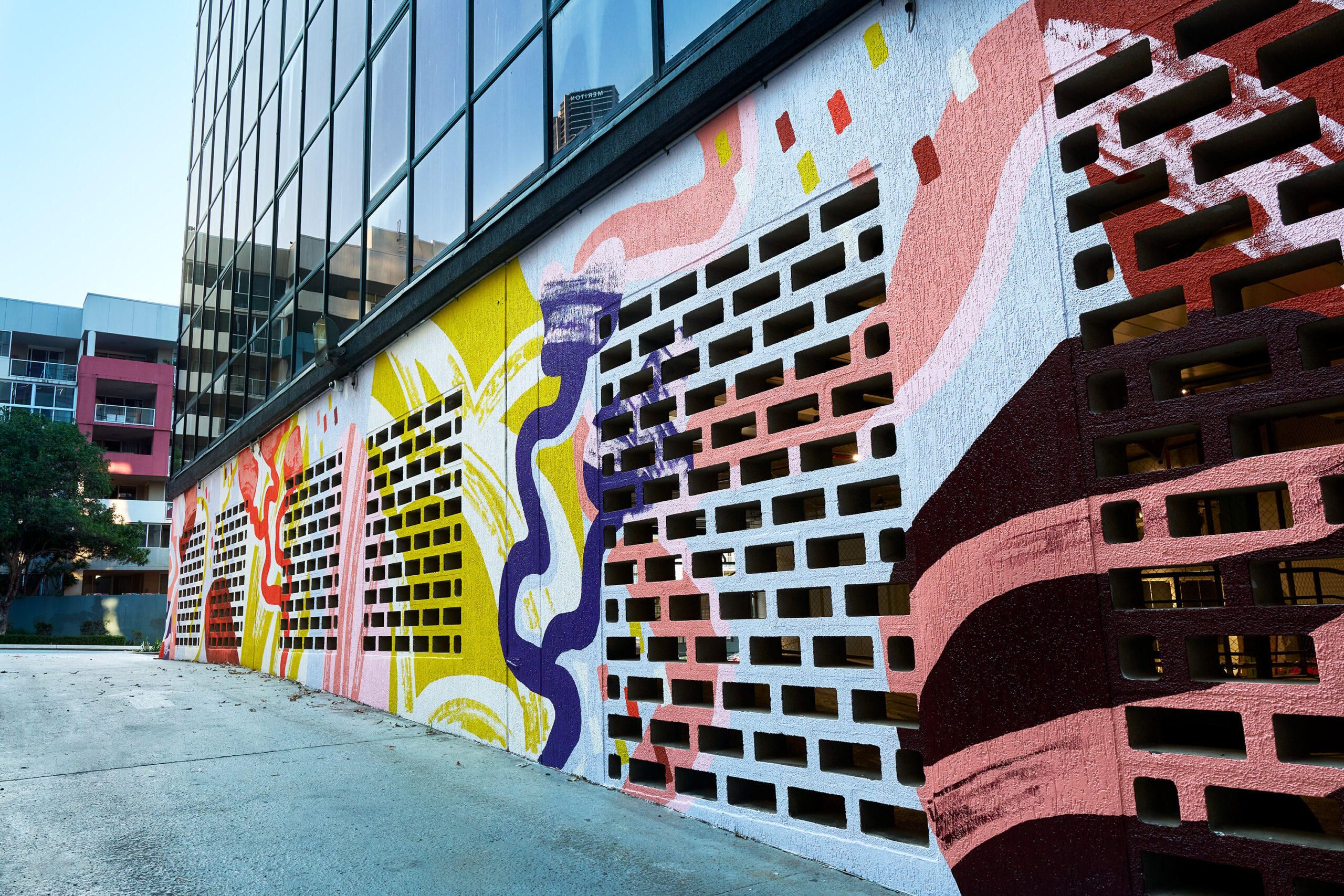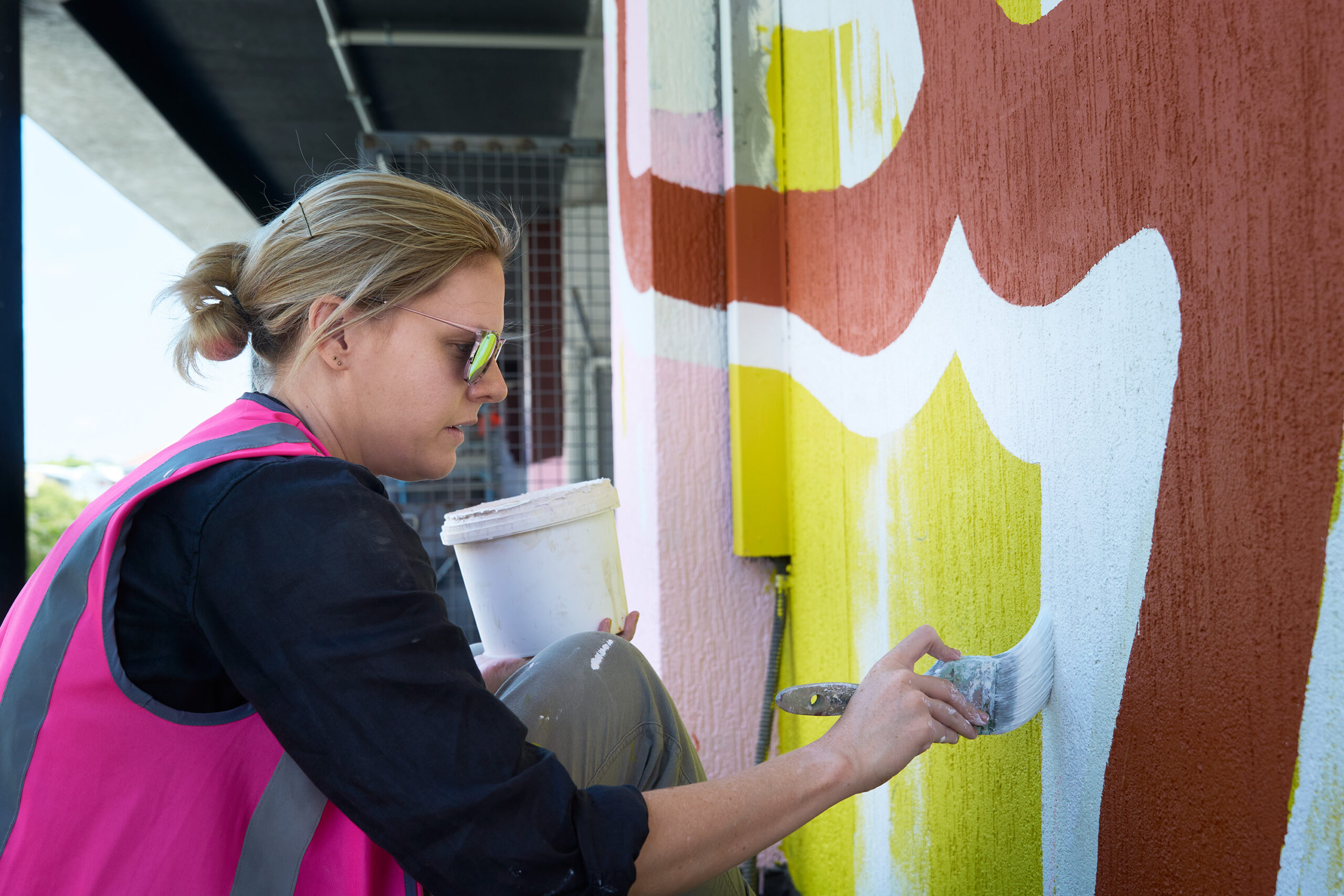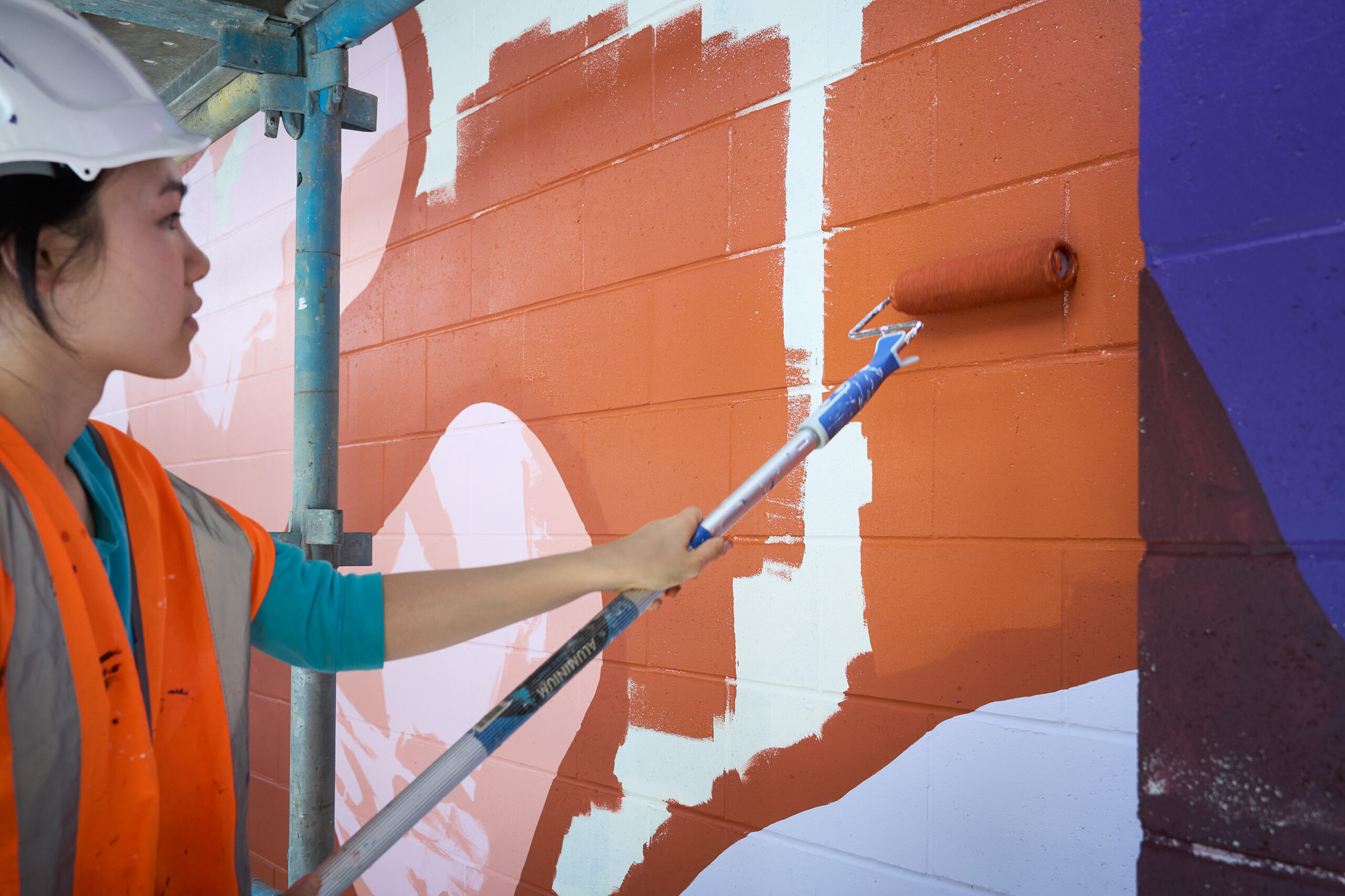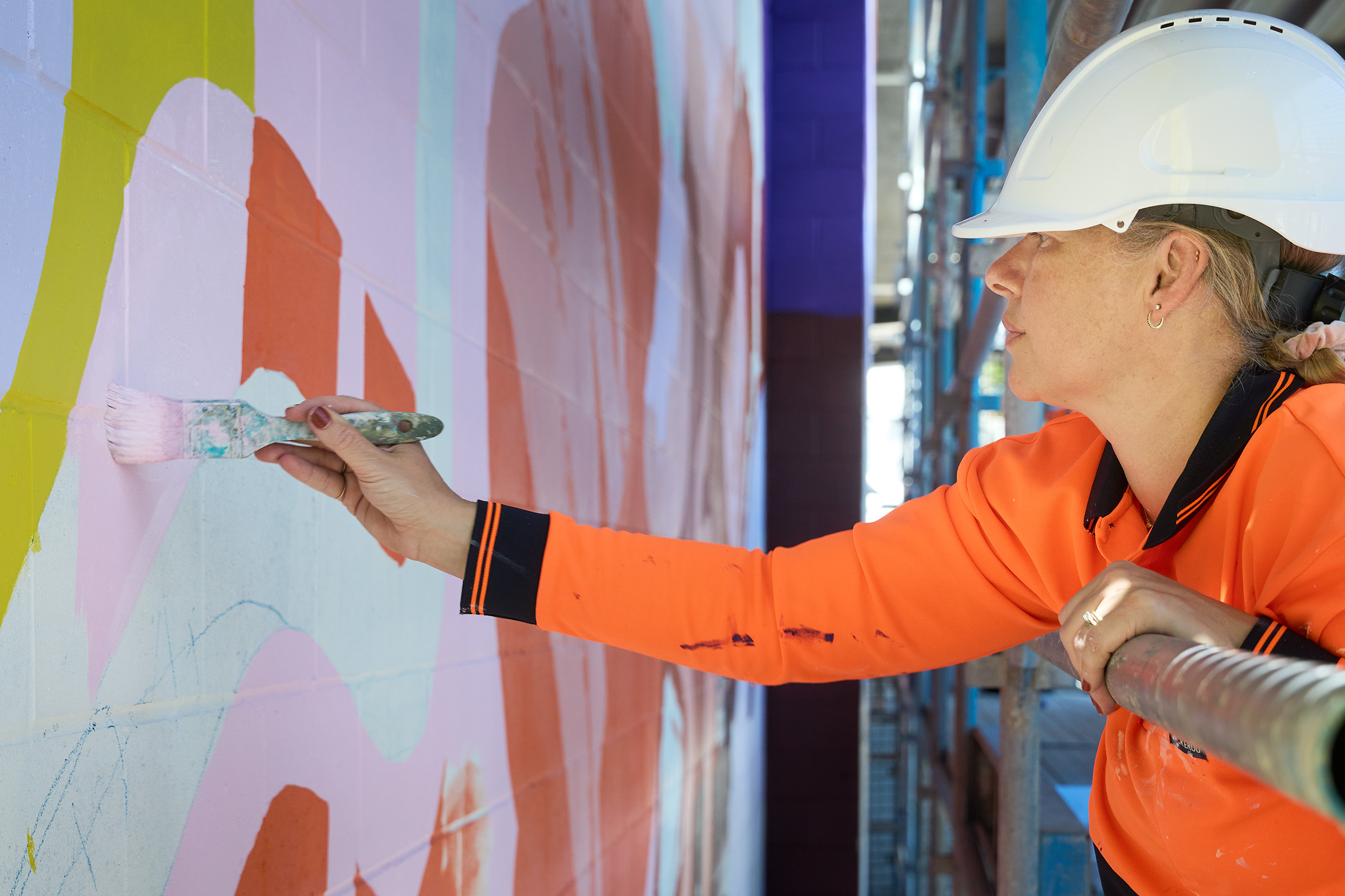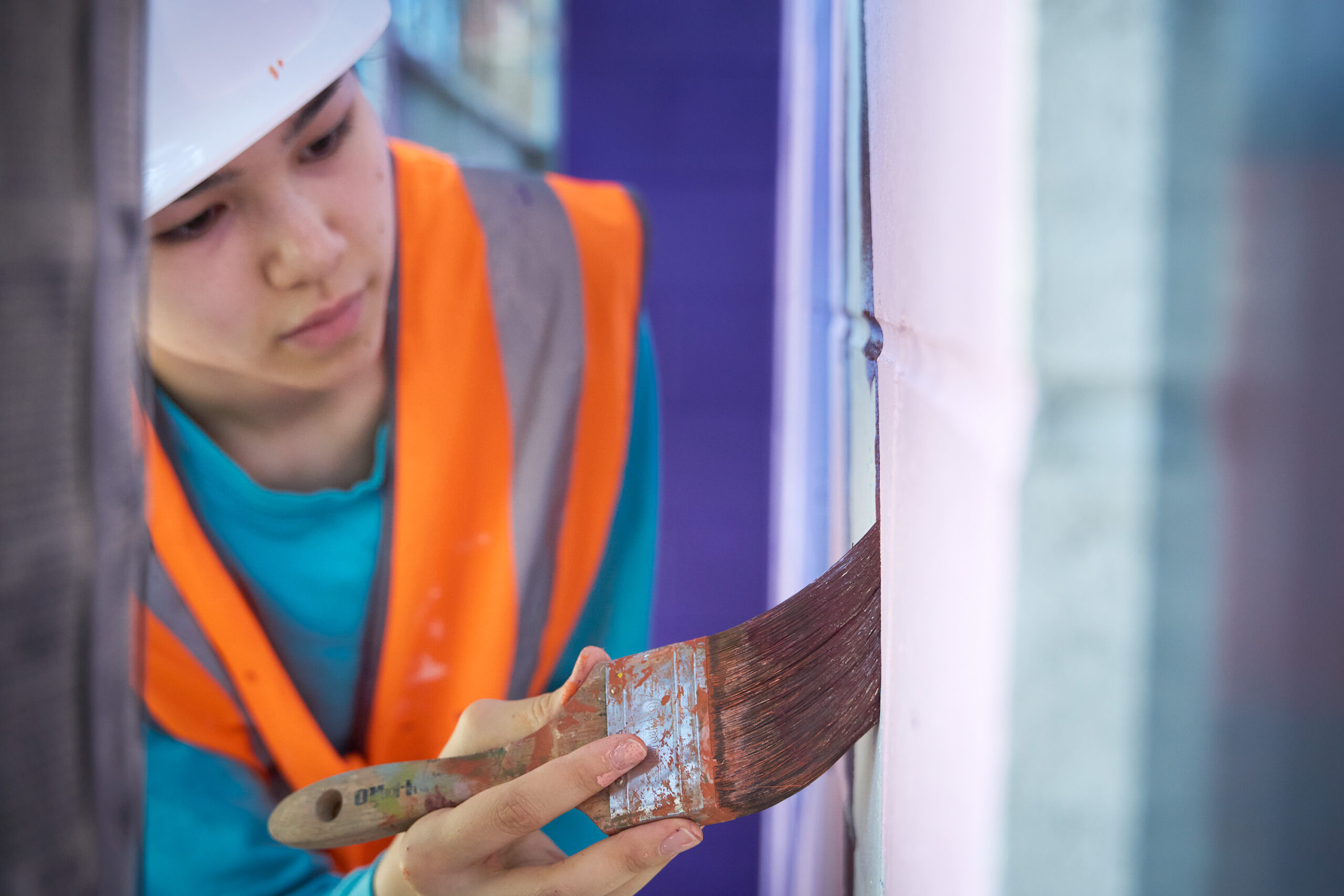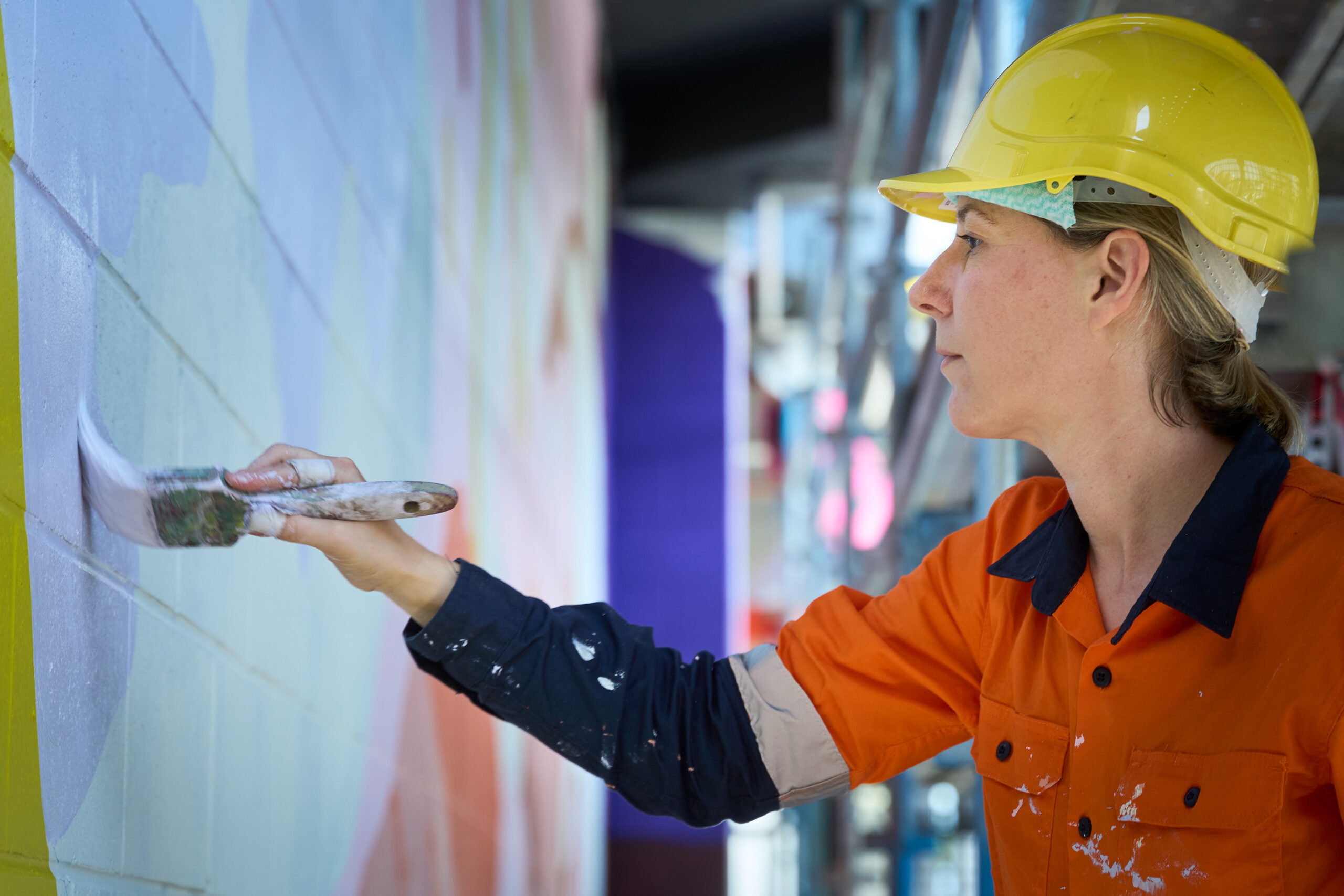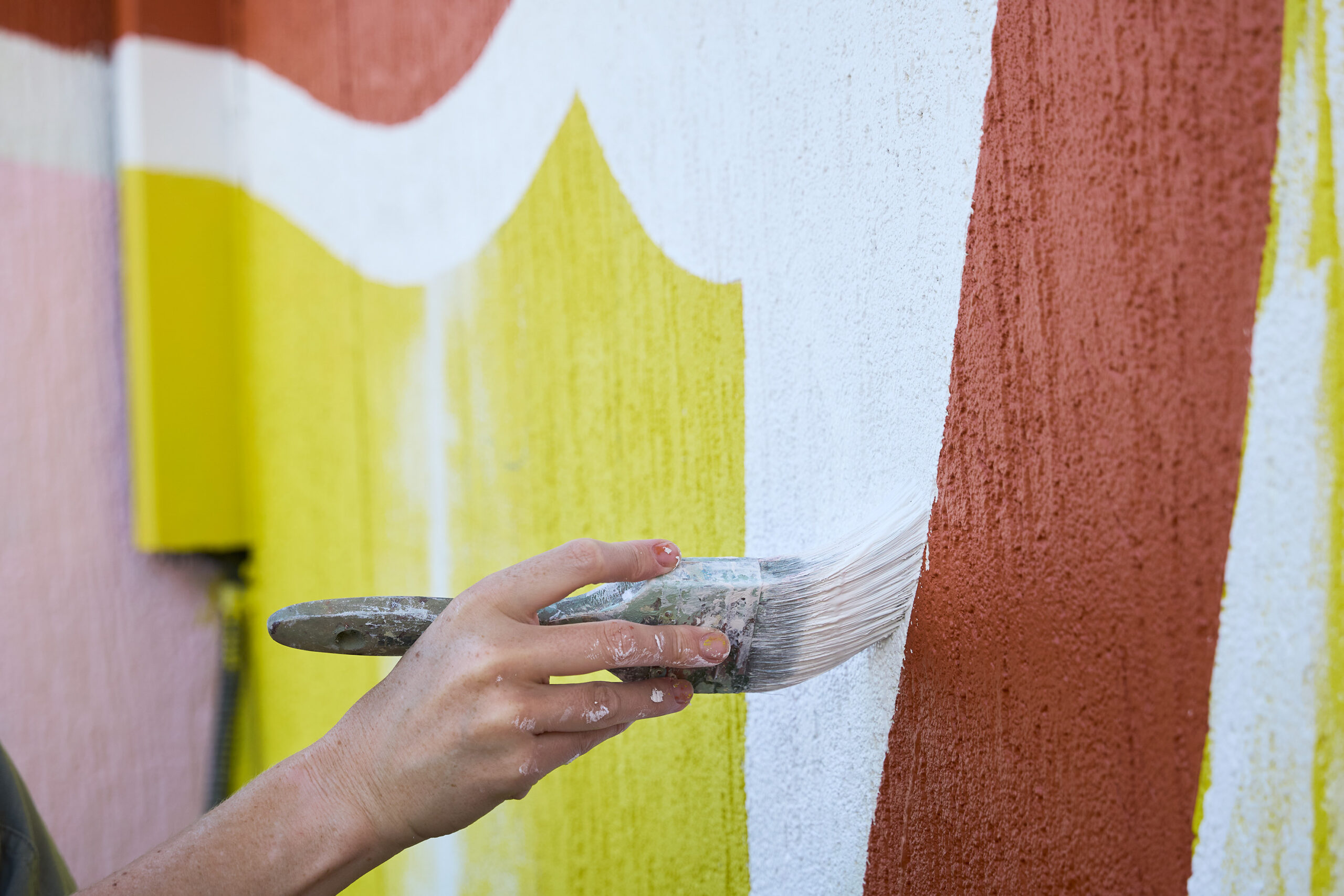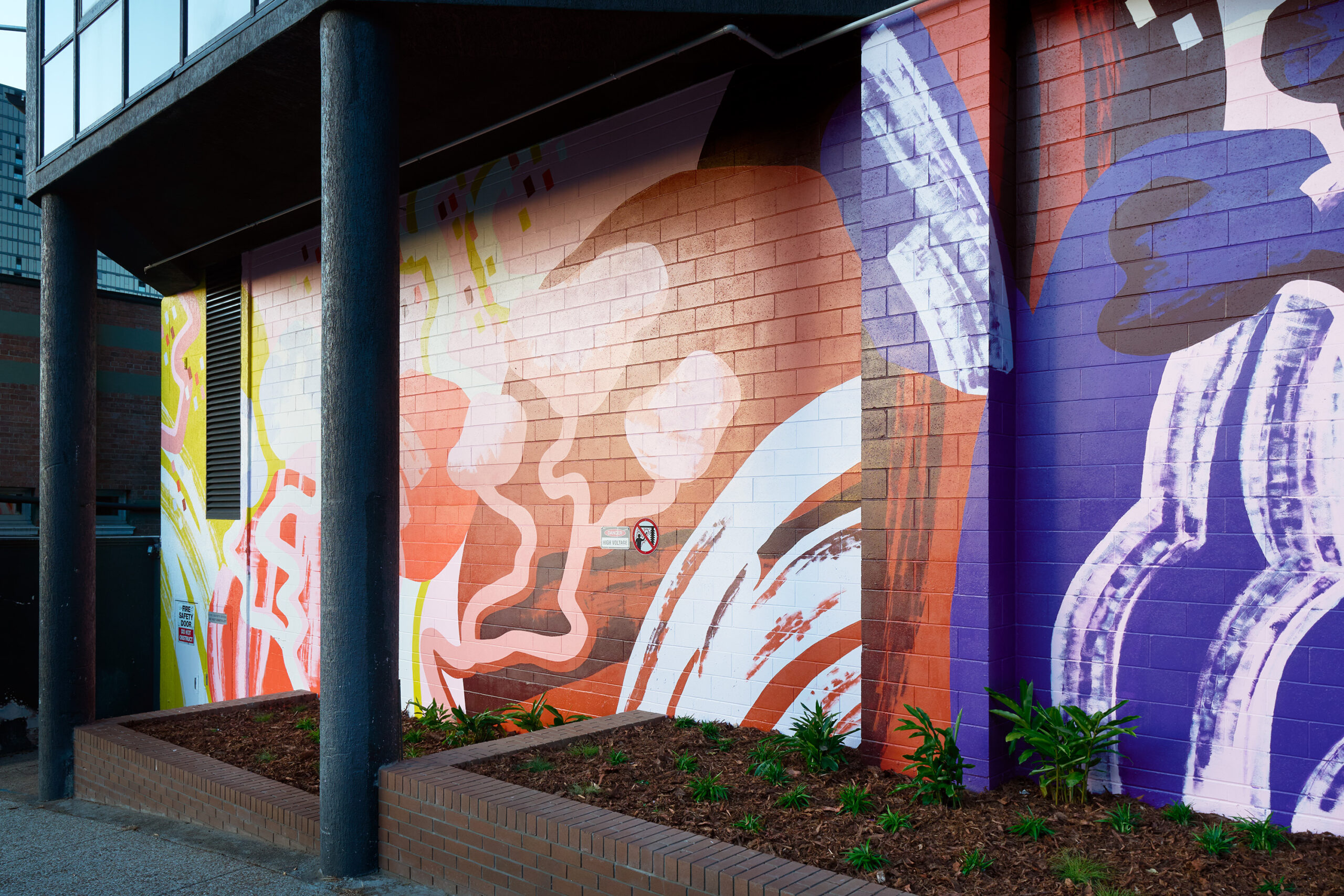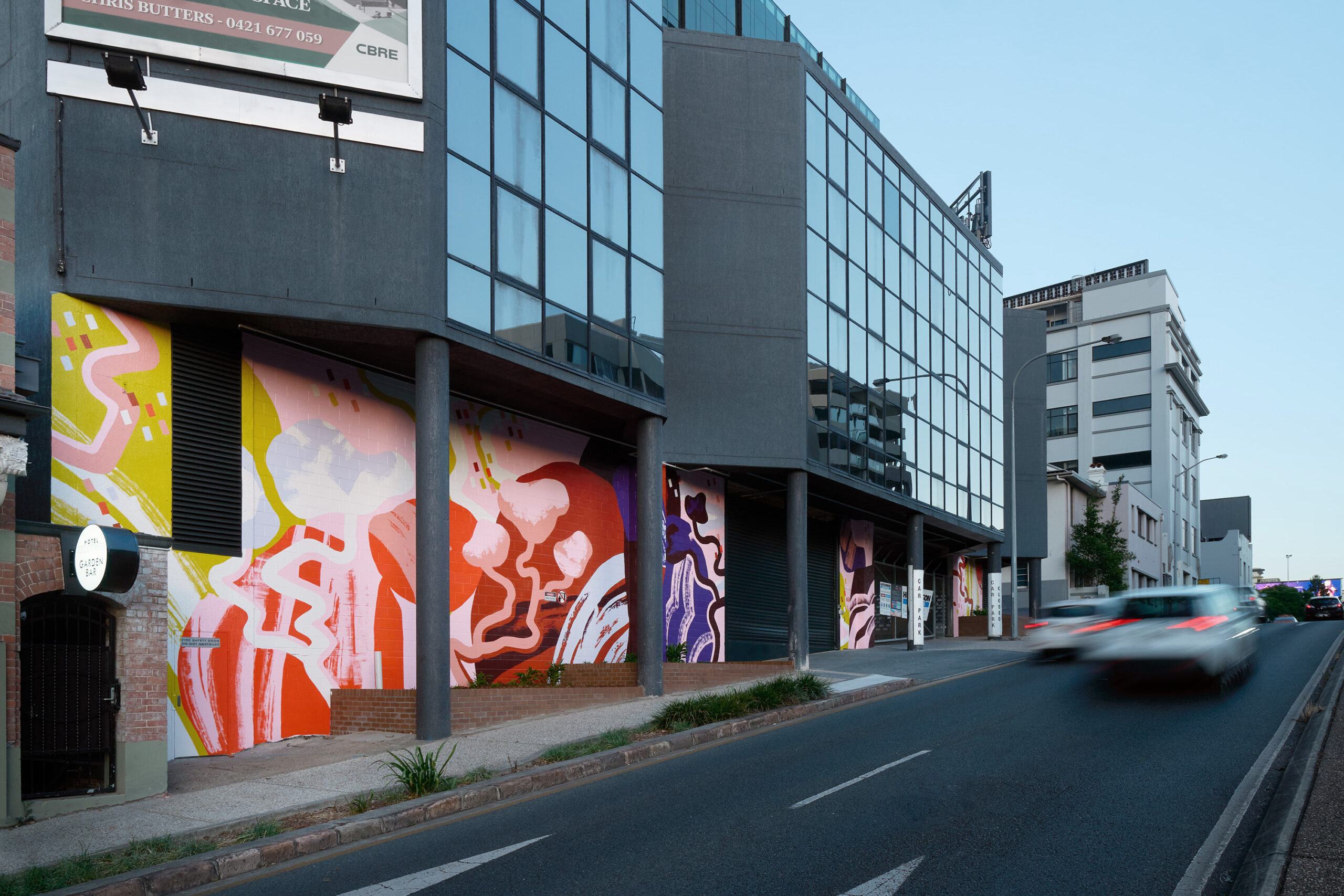 Vibration Peregrination, 2023.
Students studying at Queensland College of Art through QCA LiveArt have recently designed and installed a painted mural for LKM Holdings and Tribune Properties at 31 Duncan St, Fortitude Valley. Located within the commercial precinct of Fortitude Valley, the development includes an open retail presence in the Duncan Street Mall as well as views from Ann and Wickham Sts. The completed mural improves the visual appeal of the base structure along the Gipps Street frontage and includes the adjacent laneway.
'Vibration Peregrination' brings a tradition of Australian landscape painting into the urban environment of Fortitude Valley. Through a dynamic composition of boulders and trees, this work captures the movement of nature. Trees are shaped and twisted as they grow, they vibrate and dance across the landscape. Using a sunburned colour palette recalling twilight, this work recalls the moment that the sun goes down for a night of dance and celebrations. It is an invitation to explore, connecting nightlife and dancing with a vast and captivating natural environment. Designed by Joanna Klima.
"The opportunity to contribute to the public art scene in Brisbane has been incredibly exciting and rewarding. Experiencing each stage of the process, from creating concepts for such a large scale artwork to understanding how to plan for and install the mural, has provided me with invaluable knowledge that allows me to expand my art practice even further in new ways."

Joanna Klima, Bachelor of Visual Art

Queensland College of Art
"As part of our development of a major commercial office project in Fortitude Valley, we decided to install a public artwork on a wall that is highly visible and exposed to large volumes of passing traffic. Our architects introduced us to the team at QCA LiveArt and we immediately felt comfortable that they were the right fit for the project. QCA LiveArt developed artwork designs with their students and submitted a shortlist for our consideration. Each was unique and ultimately choosing the final design was not easy! The process of installing the artwork was run professionally and we are very happy with the result. Now it's there for all passers by to enjoy! Thanks QCA LiveArt, and in particular Simon and his group of students."

Brad Hanson

LKM Holdings