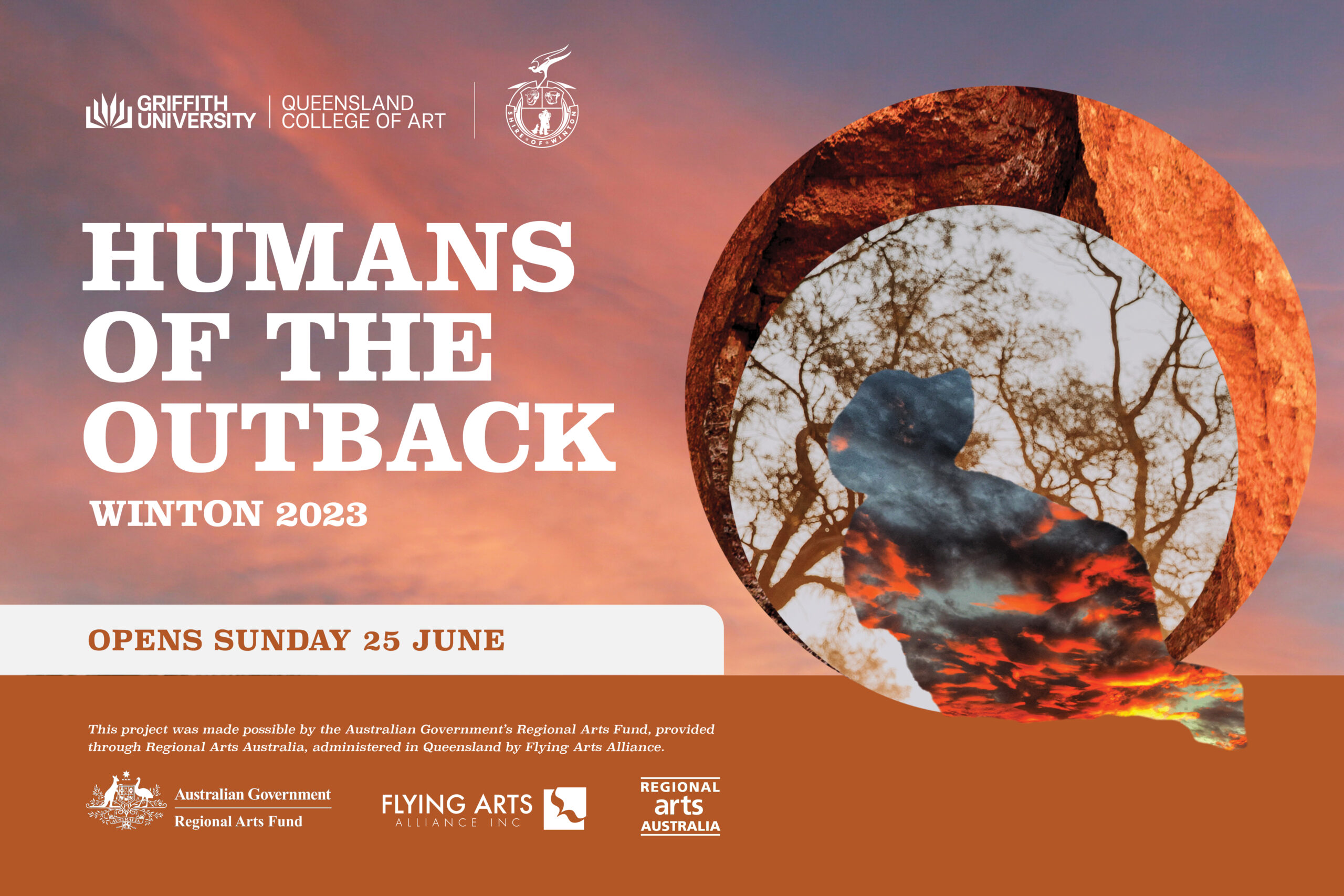 Queensland College of Art students joined students from the Griffith Film School to work together and celebrate the 10th Anniversary of Film in Winton.
A small selection of students studying painting and photography have recently connected with the local community in Winton to capture and tell their stories in a series of portraits coming together in an exhibition installed in shopfront windows along Elderslie St.
Students engaged in meaningful discussions with locals creating new works that preserve and share individual stories from this Outback Community. In consultation with the community and Guwa-Koa Aboriginal elders, as well as with support from Council, students worked collaboratively with local participants, spending time in the community to create meaningful relationships that helped to inform the final artworks.
These artworks capture a productive relationship between emerging artists and regarded locals to celebrate the Winton community through their stories for generations to come. At the conclusion of the Film Festival, the artworks have joined the collection at Waltzing Matilda Centre becoming a legacy for the 150-year celebrations of Winton in 2025. Prints of these artworks will also be displayed on the iconic Spirit of the Outback train travelling between Brisbane and Longreach.
This project has been made possible by the Australian Government's Regional Arts Fund, provided through Regional Arts Australia, administered in Queensland by Flying Arts Alliance.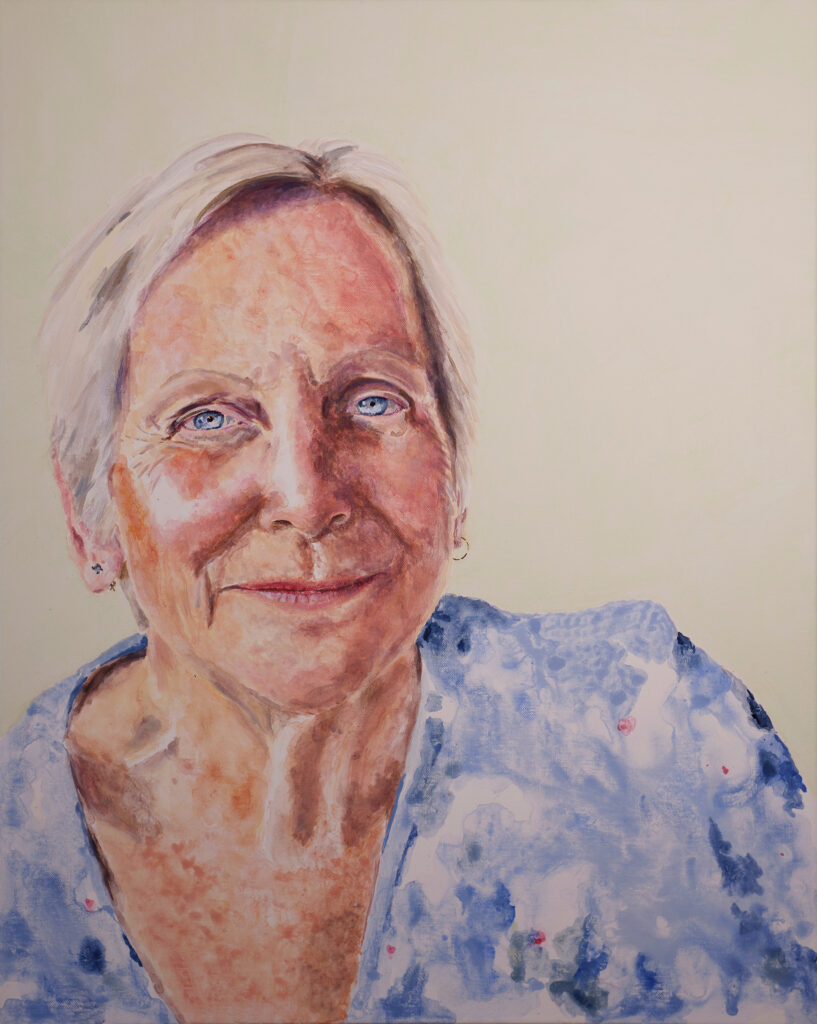 Janice Evert
Artist: Anna Weston
Janice is a vibrant, entrepreneurial and community spirited Winton local. The Evert family have owned the local Royal Theatre and are key figures in the opal industry. She has many business interests; however, Janice's true passion is opal. Her enthusiasm is palpable as she excitedly shares knowledge of all aspects of opal mining, craft, and trade. I most enjoyed hearing Janice explain her appreciation of opal in their natural form, their materialisation from the prehistoric era, and her assertion that each opal is a unique celebration of perfection. Janice and her husband John have pursued many other opportunities throughout the years however, the call of the outback has summoned them back to Winton where they have permanently settled. It has been a privilege to get to know Janice and paint her portrait, and I was compelled to capture her kindness and generous nature.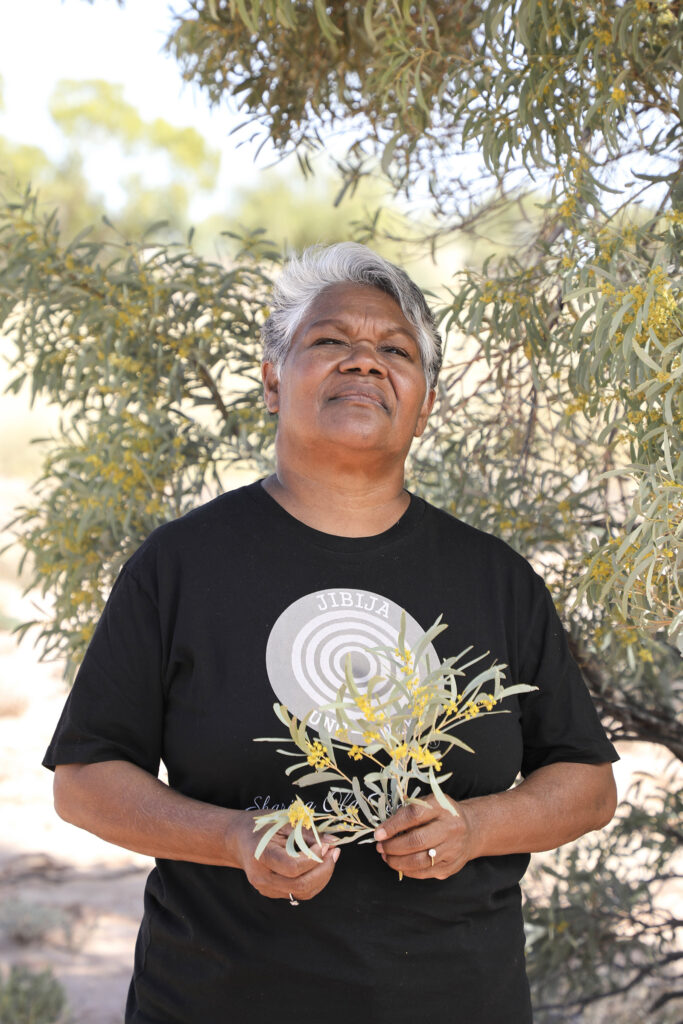 Dr Tracey Harbour
Artist: Sarah Cutbush
Dr Tracey Harbour generously shared her time and knowledge of Aboriginal culture and history in Winton. Connected with this place through her extended family, Tracey is a true advocate for the power of education for young people in both Western and Aboriginal histories and culture. Tracey and her family run Jibija Ung-gwee (which means – 'sharing old time stories), devoted to the sharing of Aboriginal histories, culture, knowledge, and ways of doing business with Aboriginal people to young non-Indigenous people and non-Indigenous businesses. Their hope is that through this education, younger generations will be able to take up a position in society where they can understand and appreciate the strengths of Aboriginal culture and knowledge.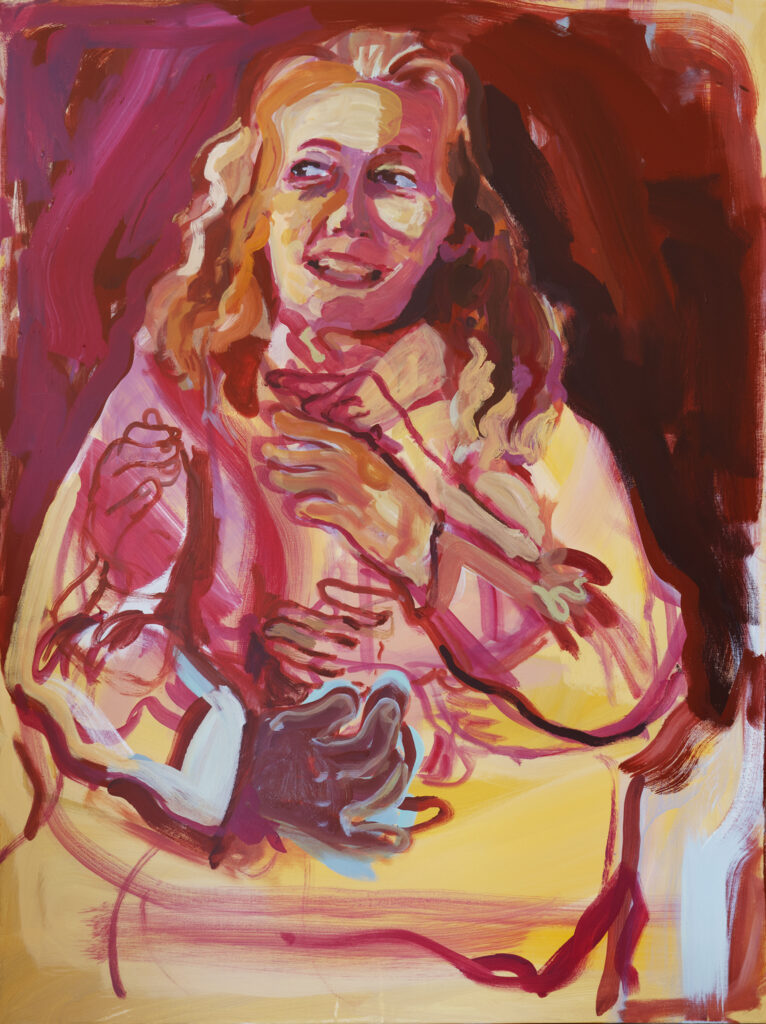 Linda Jeffrey
Artist: Cheyenne Walston
Linda Jeffrey fell in love with Winton while backpacking from Aberdeen. Working as a pub waitress, to council administrator and now at the Winton Library, Linda has worked almost everywhere down the main street! Linda has an infectious personality making her well-known throughout the town. Linda is a skilled photographer who's tried her hand at almost everything - she's succeeded in coaxing a thriving garden in the harsh outback climate, creates beautiful and skilled photographs, tried her hand at pottery and mural painting. With a vibrant colour palette and energetic hand gestures, I have captured how lovely it is to chat with Linda, and the passion she has for the town.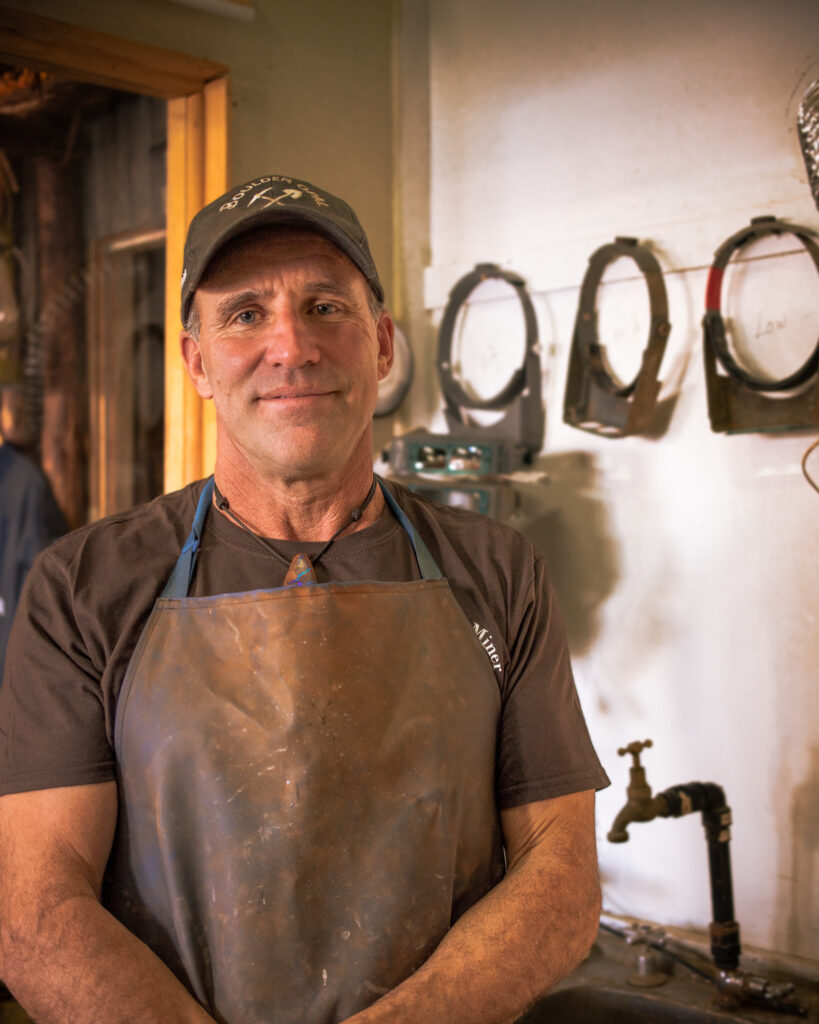 Joseph Taranto
Artist: Alanah Shae
Joe Taranto and his wife Natasha own and run The Opal Miner. Joe traded a long career in hospitality for his true passion for mining and cutting opal and is now one of six miners in the region. Joe has a passion and knowledge for opal which radiates as his talks about the exact time and place where each precious stone was found in his store. His constant companion is Duncan, his loyal cattle dog. Joe is a passionate, kind-hearted, and a thriving member of the Winton Community.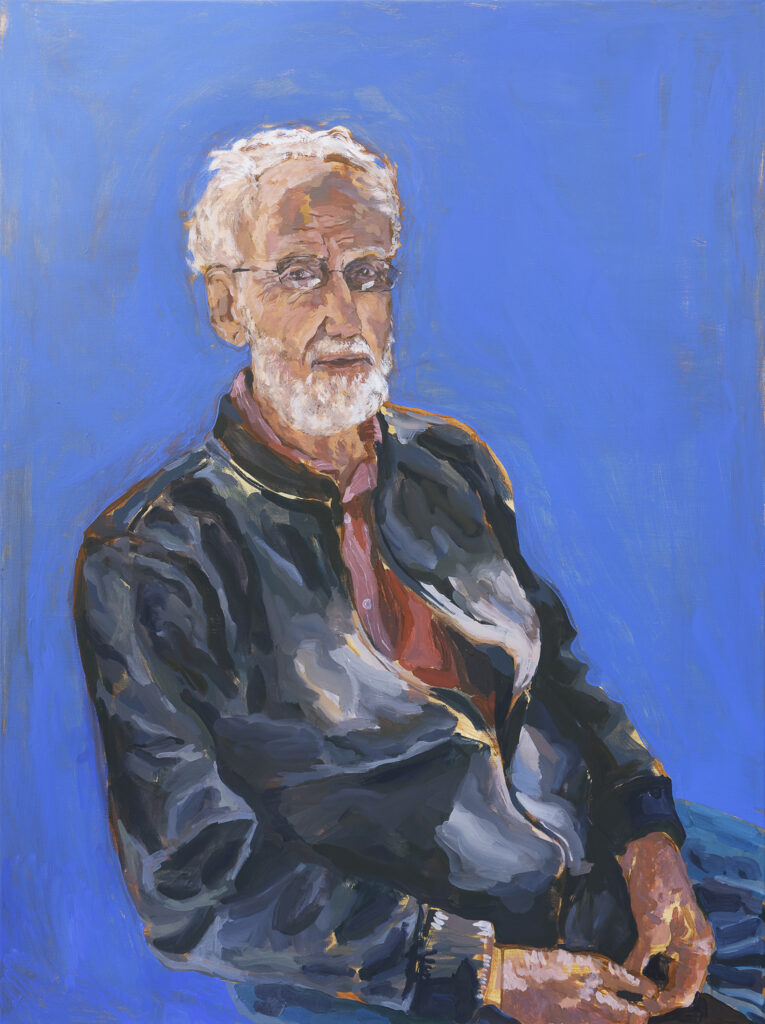 Bernie Searle
Artist: Brooke Tarrant
Bernie Searle owns and runs the cherished Searles Outback Store, which he took over from his father who bought it in 1946. Once Captain of the Fire Brigade, Bernie is passionate about Winton and his father's shop which continues to adapt to the needs of the community. Bernie has the unique ability to find anything for you in his shop of everything, whether that be the perfect Akubra hat to dancing pumps. He has travelled outside the town, however, Bernie calls Winton home, he has lived here his whole life, and says that he would never want to live anywhere else.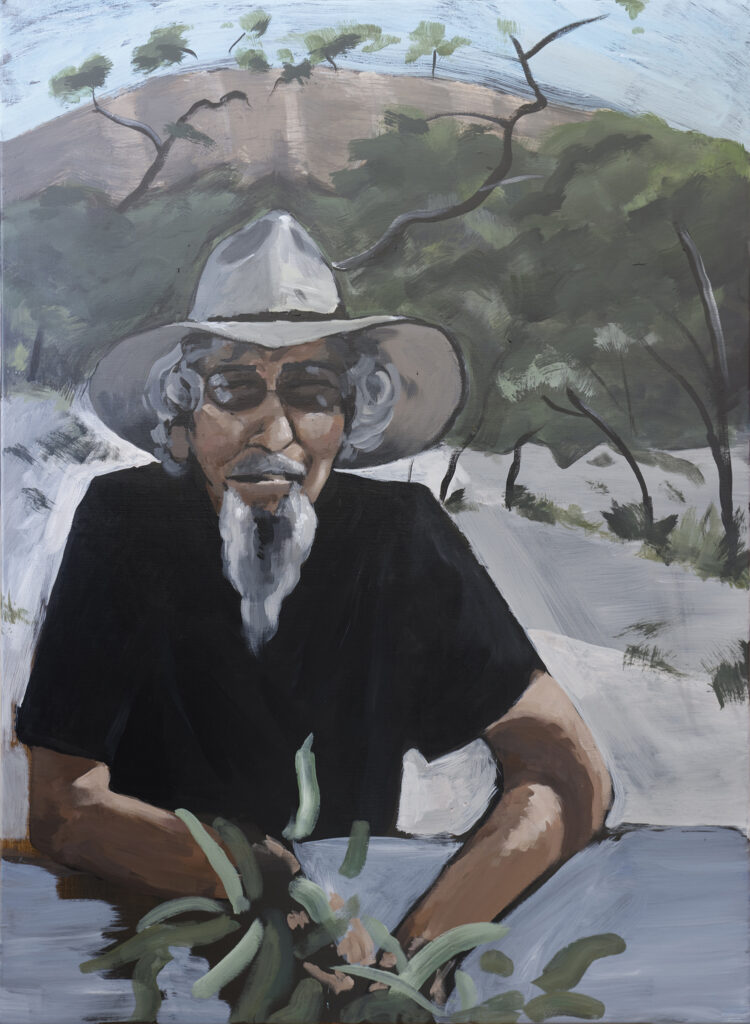 Uncle Michael Mace
Artist: Simon Cutler
Uncle Mick Mace is a straightforward person with a grounded presence. He is passionate about sharing Aboriginal culture and finding common ground between Indigenous and Non-Indigenous Australians. He is an educator and Koa Elder on the board of the Guwa-Koa Aboriginal Corporation for the National Native Title Tribunal. Uncle Mick has many stories about his diverse experiences in school, public service, with his family, and in Winton. He readily offers his time and support to his community and to those in need, reflecting his selfless and compassionate character. Mick's generosity and willingness to lend a helping hand leaves a lasting impact on those fortunate enough to cross his path.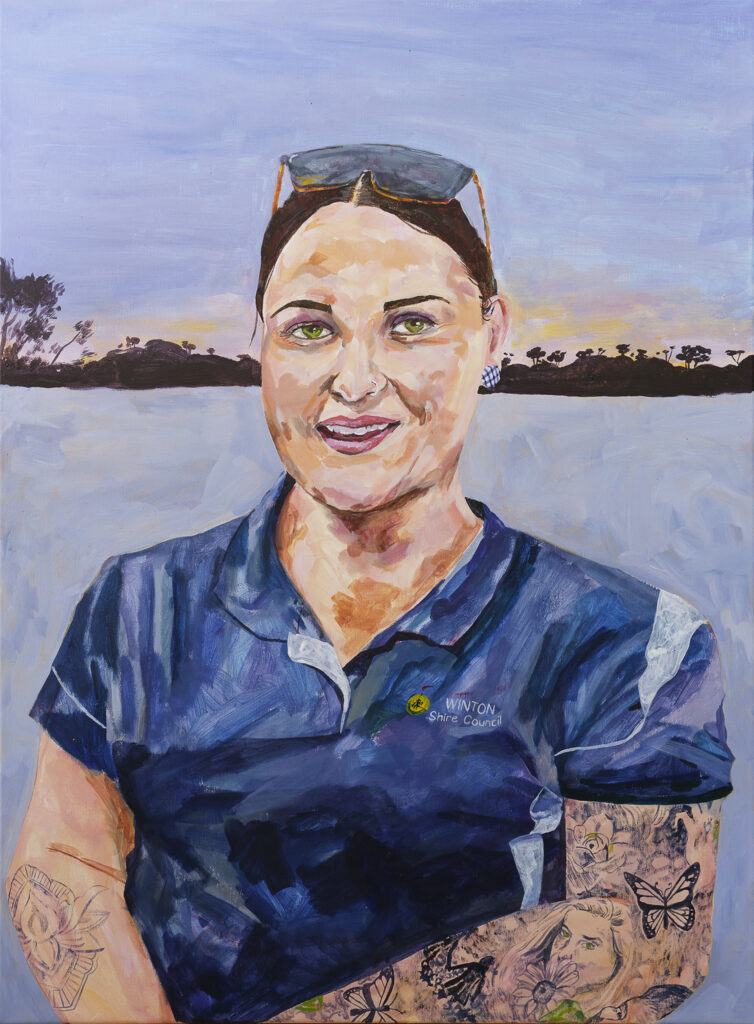 Peta Grant
Artist: Erin Moore
Peta Grant is a Wintonite of many talents. From testing the towns water supply to being the local mortician and ambulance driver you wonder if there is anything she can't do. Although Peta has ventured away from the town during her life, her and her twin sister were born here, and she says moving back two years ago was the best decision of her life. You can find Peta in her down time rumbling along the roads on her Harley, chatting away at the lost poet, or at the local gym with her partner.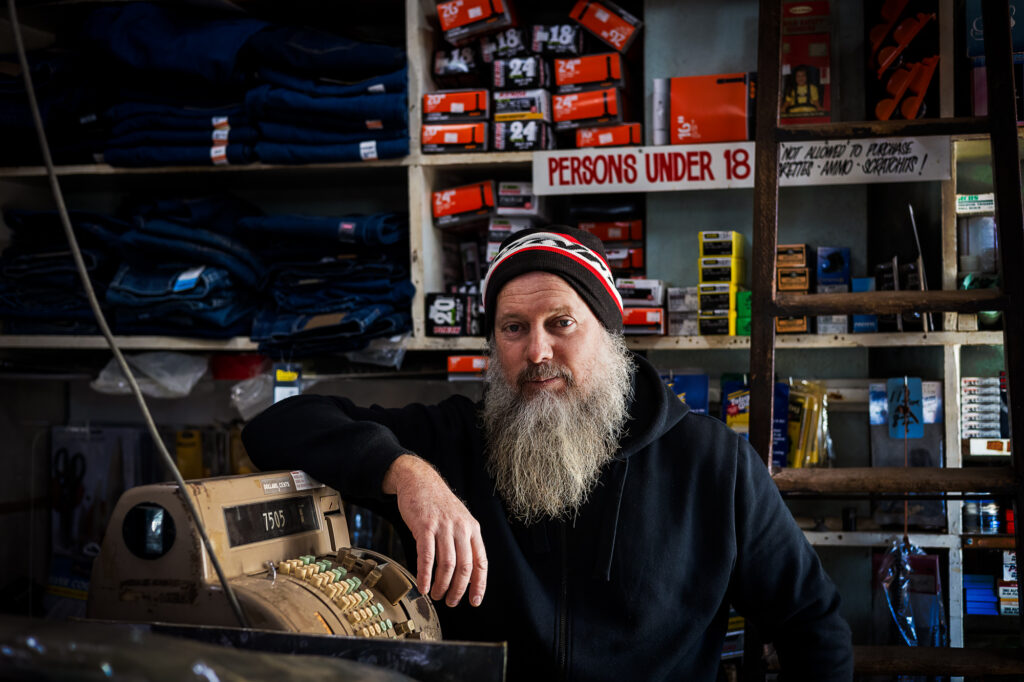 PeeWee Searle
Artist: Cheryl Bronson
Peewee Searle's given name is Richard but like many families where given names are used across generations, Richard is one of many in his family and as the smallest he earned the nickname Peewee. He is a proud resident of Winton, born and raised in the town. PeeWee attended boarding school in Brisbane, and returned to his hometown where he now lives. In Winton he met his wife Nicole, they have four children. Peewee is a family man at heart and enjoys spending time with his kids when he is not working at Searle's Outback Store, which he runs with Nicole and his father Bernie. When he is not busy with work or family, Peewee enjoys relaxing at home and spending quality time with his loved ones.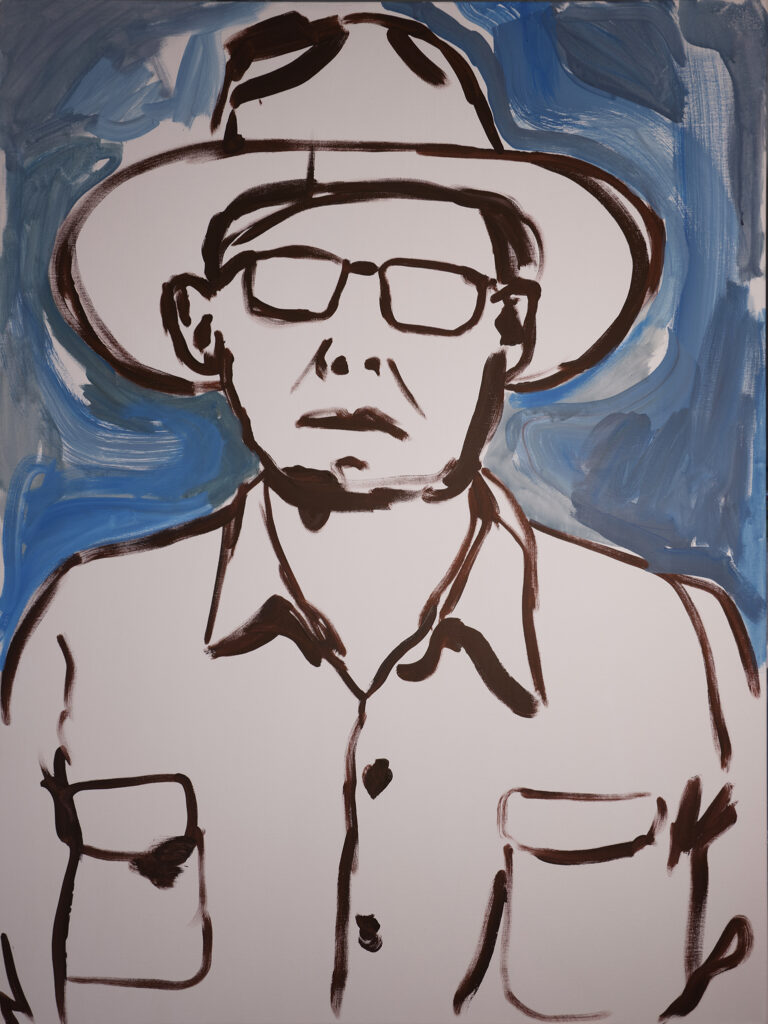 John Parker
Artist: Cheyenne Walstyn
Born in 1936, John Parker has had a long history with the town of Winton. For 65 years, his family owned and ran a minimart, and he's worked a vast array of jobs in the town over the years. He's an avid photographer with a passion for capturing the world around him. John is an iconic and well-loved figure of Winton. Using bold, simple lines I wanted to make a portrait as recognisable and iconic reflecting his personality and likeness.